Tourism and Events Queensland contacted us and asked if we wanted to take an adventure through the Atherton Tablelands to the Undara Lava Tubes to take photos, of course we said yes. I think they knew were up for spontaneous adventures given the type of content we post on our social media channels. It was a bit of a coincidence because we had been talking about this trip for a while. Mt Quincan Crater Retreat and the Undara Experience were already high on the bucketlist.
We worked with TEQ on an itinerary that included some hidden gems as well as some popular destinations. We enlisted the help of Tropical North Queensland who gave us some local spots and then we locked in dates. I've recently been working with Ireland's of Cairns and managed to talk them into lending us a new Colorado to take on the adventure. Legends!
I had no idea there were so many volcanic craters scattered through the tablelands region. There is so much history in the area and no shortage of things to shoot. Check out the story and photos below!
Day 1: The Gillies Range – Heales Outlook

We took the Gillies Range road south of Cairns to get into the tablelands but you can also head up via the Kuranda Range or the East Palmerston near Innisfail (we came home this way). We started early from Cairns and wanted to catch the sunrise from Heales Outlook, it was spectacular.
Yungaburra – WhistleStop Cafe
The next stop was for breakfast and coffee. Yungaburra is a beautiful little town so we drove in and a little coincidence led us to the Whistlestop Cafe. As we entered the town I started whistling and then we saw the cafe, meant to be. Friendly locals and a delicious breakfast, perfect start to the trip. Sue from the cafe told us to say hi to Bram at Undara but he wasn't out there so hopefully he sees this blog. (Bram, Sue says hi)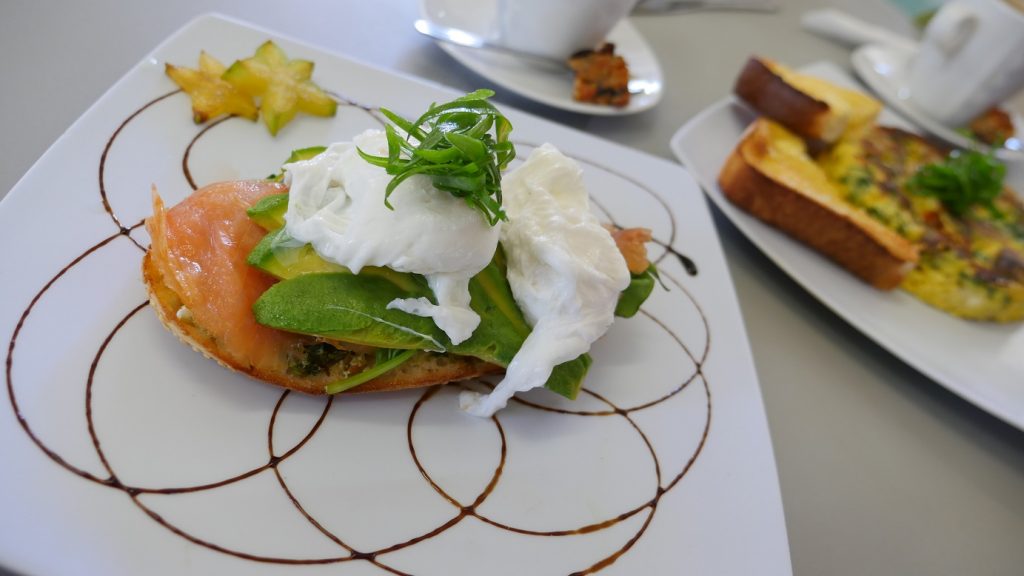 The Curtain Fig Tree
There are a few massive strangler fig trees on the Atherton Tablelands and the Curtain Fig is one of the most breathtaking. There is a walkway all around it and it's well worth visiting. The strangler fig takes over and strangles the host tree. They estimate that the Curtain Fig tree is over 500 years old.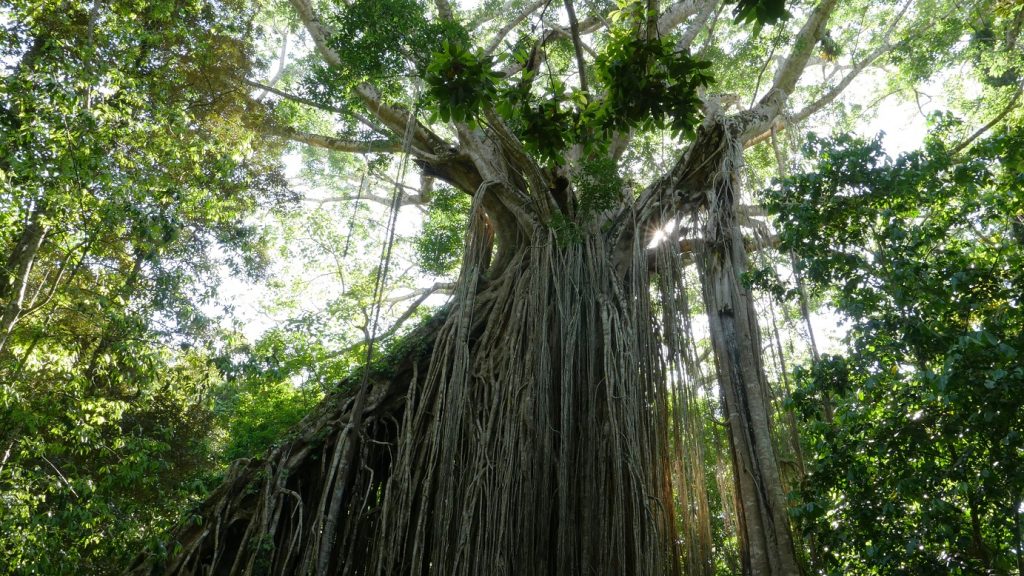 Lake Eacham
On the trip we came across a lot of volcanic craters but there was one in particular we wanted to visit because we felt like a swim, Lake Eacham. Lake Barrine is the other crater lake and it's quite close. They have delicious scones at the tea house and you can take boat tours but in this case we wanted to cool down so Lake Eacham was the crater lake for us.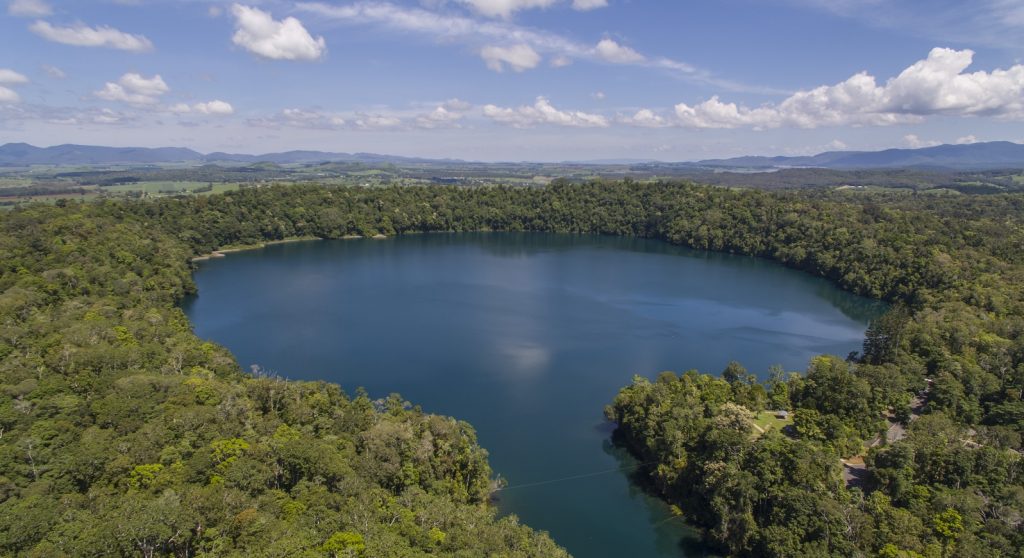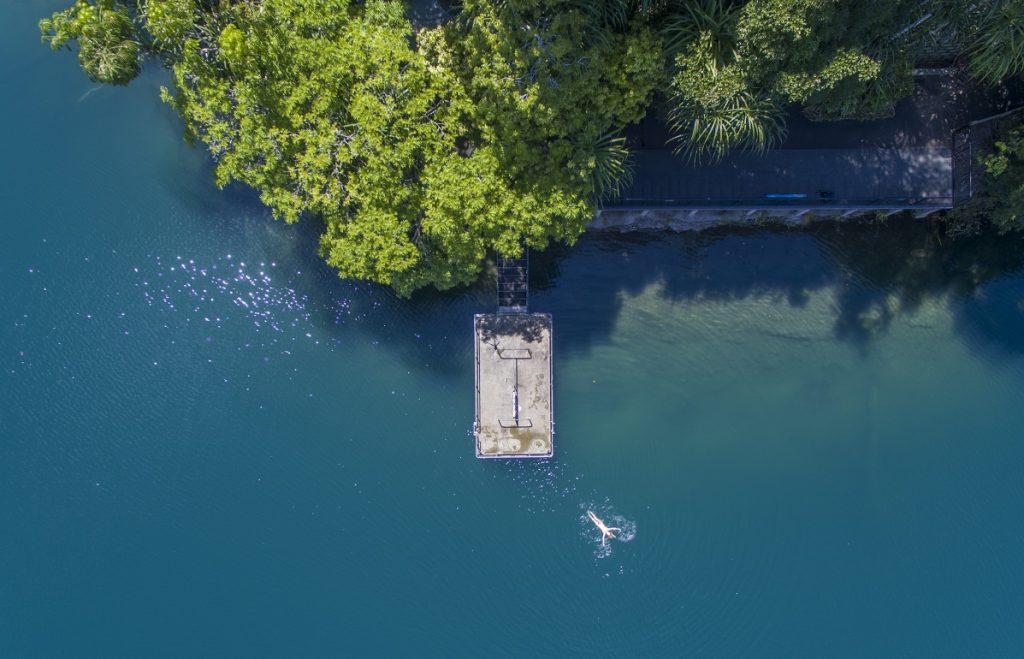 Mt Hypipamee Crater and Dinner Falls
This crater is a few hundred meters from the car park and when you see it you feel like you've taken a step back in time. It's a long drop, apparently it's about the same distance in height as the Sydney Harbor bridge. Dinner falls is just down from it and you can swim there too. Two stunning spots side by side!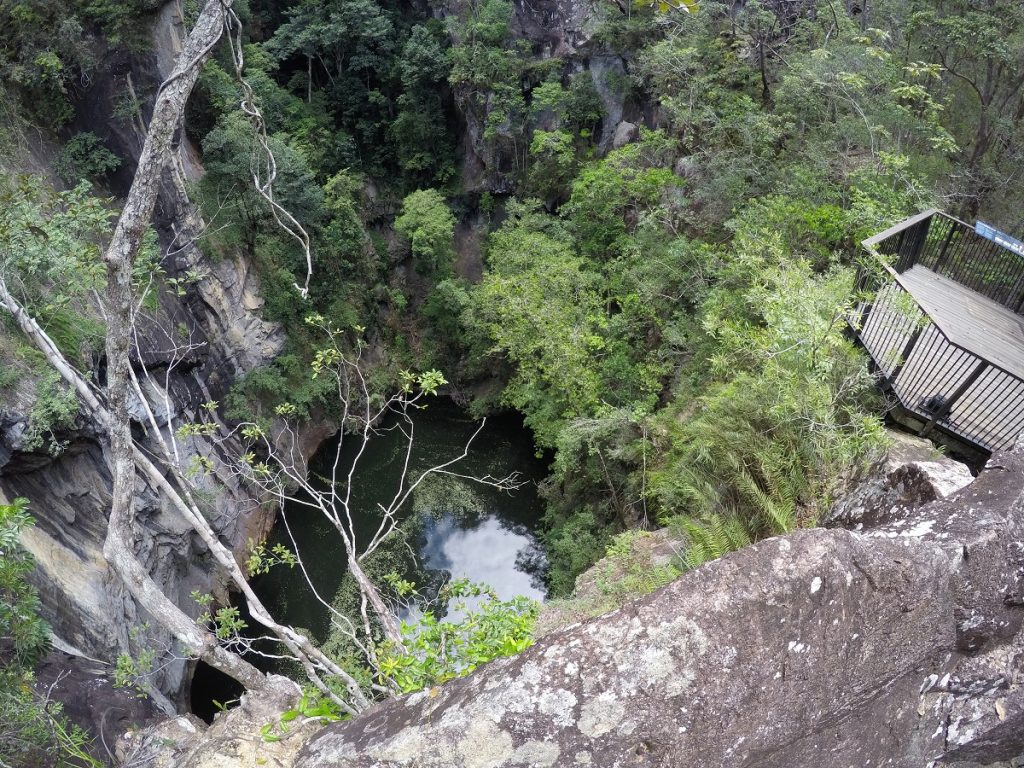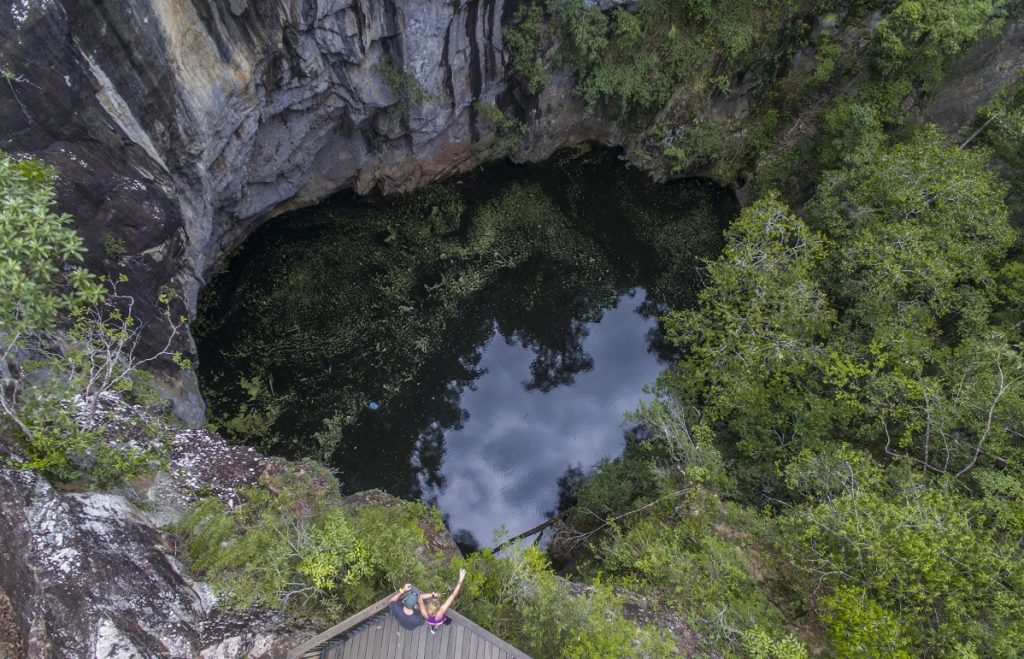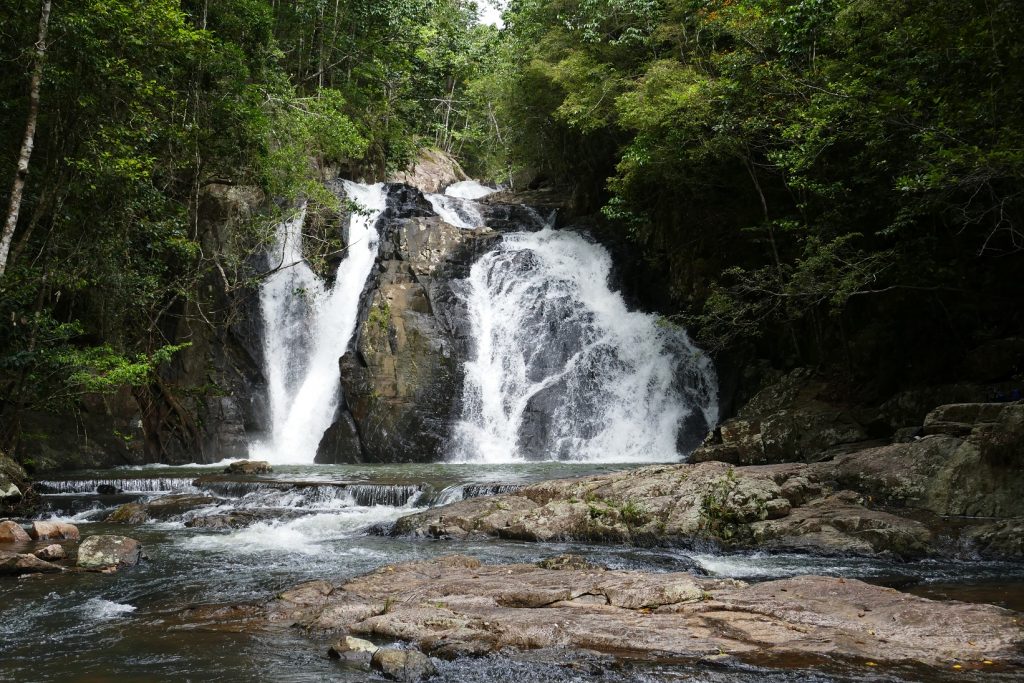 Mt Quincan Crater Retreat
I don't want to give too much away about Mt Quincan Crater Retreat and will simply say that if you get the chance you should definately stay here. The reason I say this is that everything from the initial meeting to the end of our stay was amazing and I have stayed in a lot of different places. It's proof of how the little things make a huge difference. Plus how often do you get to stay on a volcanic crater? The walks are beautiful and sunrise from the summit is spectacular.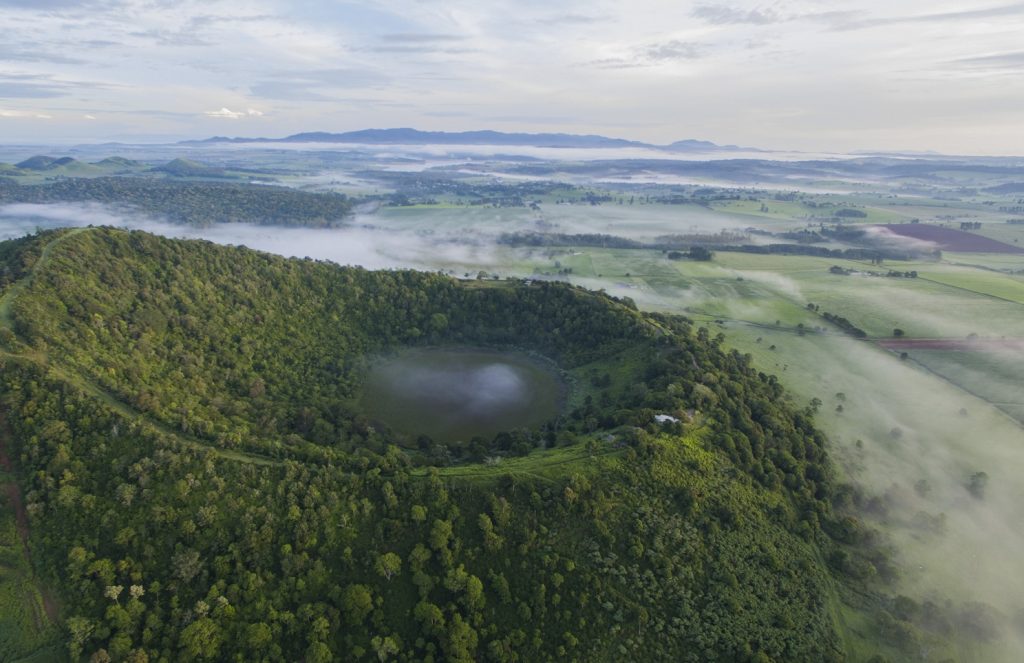 Day 2: Mt Qunincan Summit Sunrise
Day 2 started with a walk to the summit of Mt Quincan Crater. We walked the bush route on the way up and the car track on the way down. We didn't realise how thick the bush was and I assured Alana it would be a great adventure as I bull dozed the spider webs in the dark. Alana followed closely while dropping a few swear words along the way and almost turned around at one point. We made it though! If you're going to do it for sunrise (which I would highly recommend) take a torch and talk to Kerry and Barb the day before, it is a bit of a tight track on the way up in the dark if you take the bush track so maybe take the car track up if it's dark. We got a stunning sunrise with mist in and around the crater, one of my favorite sunrises to date.
Gallo Dairyland
Given that I have a slight chocolate problem and Alana has a bit of a cheese addiction we figured we would stop at Gallo Dairyland before heading any further. Just to pick up some essentials! They make cheese and chocolate on site here and it's delicious.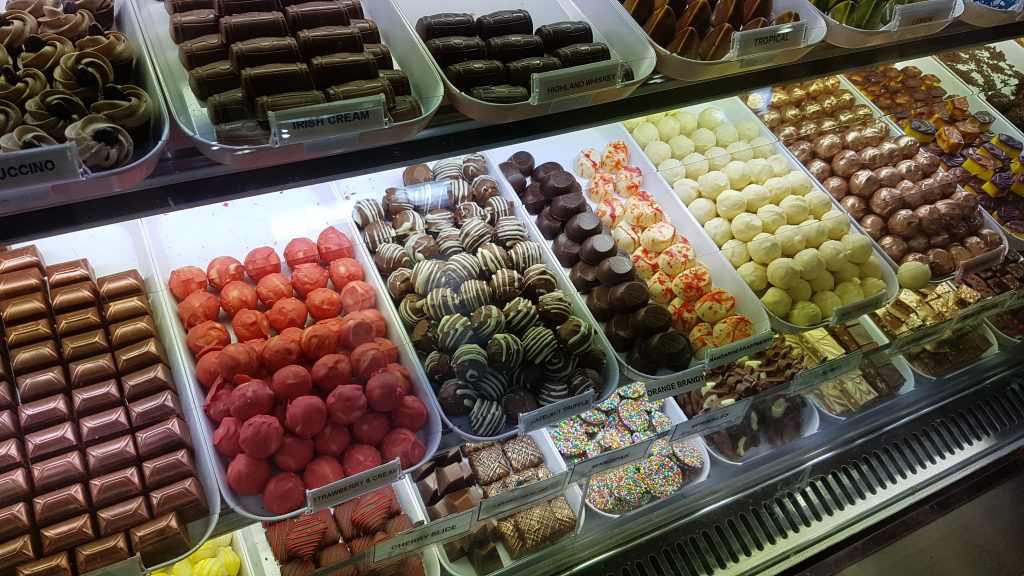 Halls Falls
On the way to Halls Falls we actually got a bit lost. We followed Google maps and picked the shortest route which led us to a track we couldn't get through (we really wanted to try but the track was pretty hectic and we didn't want to damage the new 4WD). We got to meet some cows though and we play this game called 'hey cow' where we yell 'hey cow' and count the heads that pop up (Phil is the champion). This kept us occupied along with the strong coffee and bad singing to 90's music. After a bit of backtracking we finally made it to Halls Falls. You need a 4WD or at least and AWD to get in but it is beautiful. A short walk from the car park and you have a stunning pool in between 2 decent sized waterfalls.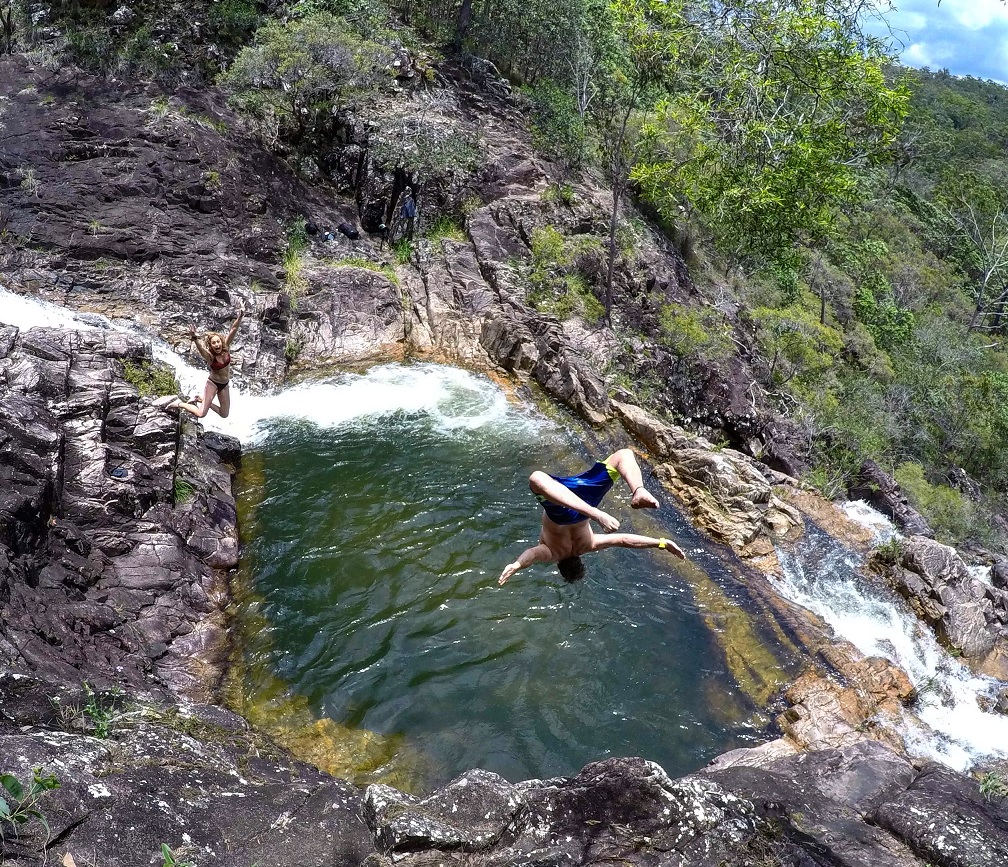 The Undara Experience

It took about 2 hours for us to get out to Undara and when we got there it was raining but one thing I noticed was how green it was everywhere and how much wildlife there was. There were hardly any people around and we were greeted by Kane. He offered us dinner and a drink straight away and gave us the run down on the area and our accommodation. We checked into  our pioneer cabin and then sat down in the open dining area surrounded by train carriages. It was nice to watch the rain fall while eating, drinking and talking about how lucky we were to have the place to ourselves and how great the trip was so far.
Day 3: Lava Tubes and Wildlife
We woke up early and walked up to the Bluff for sunrise. Not a big walk and a beautiful view!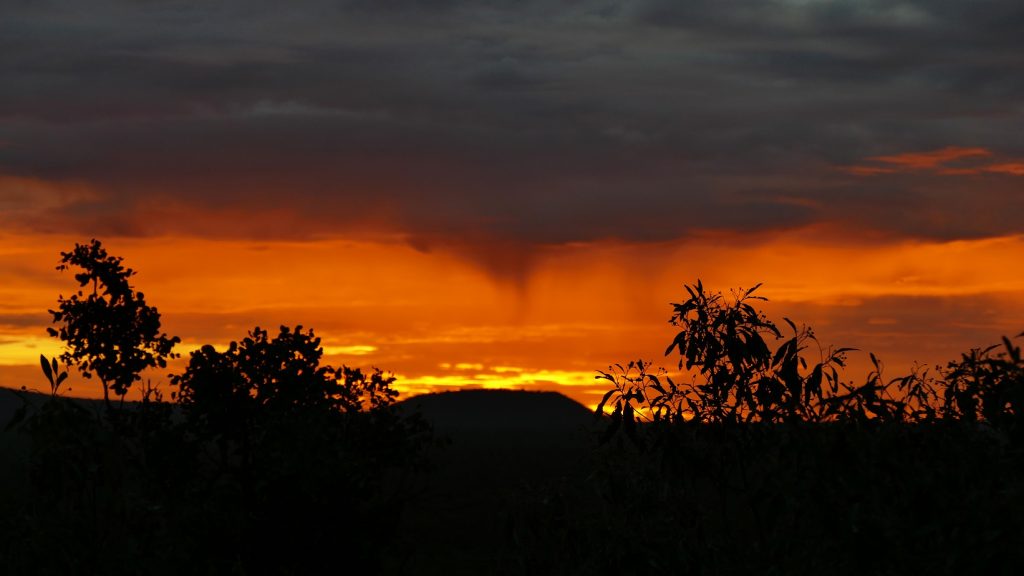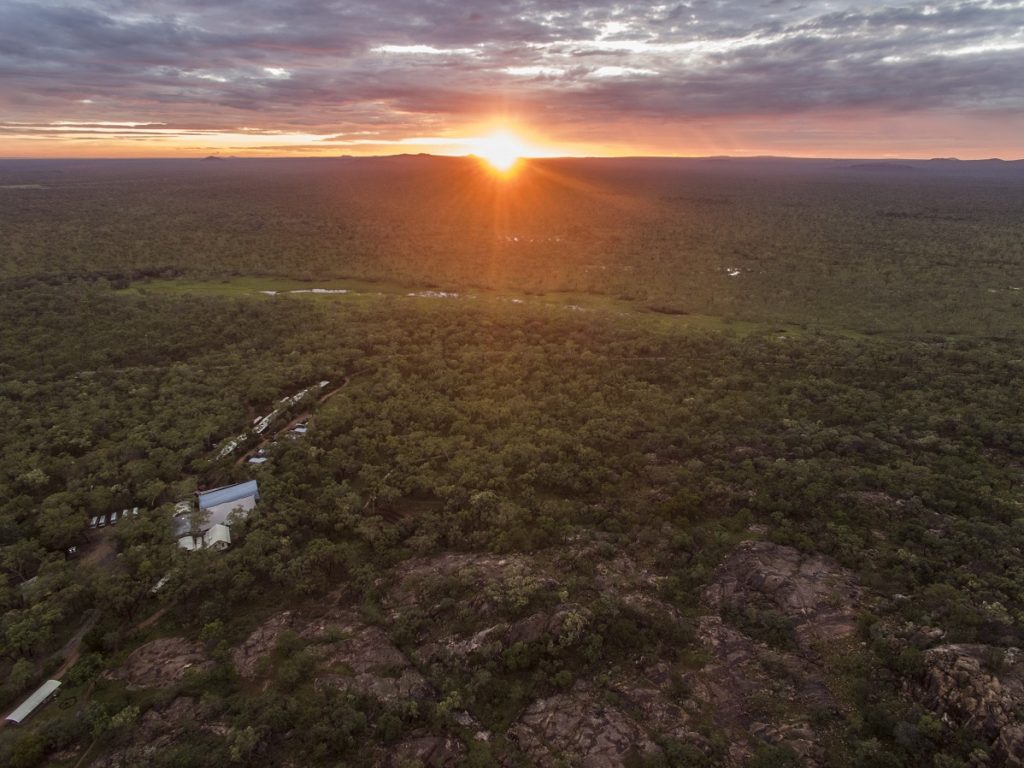 After walking down from the Bluff we had some breakfast and took a walk around Undara. They have all types accommodation but perhaps the most well known are the train carriages. They use them for dining cars too. Such a great setup and I later heard the story of why they are there which is a great story so I won't spoil it. They also have these teepee tent style camp setups and they look great but they don't get used this time of year. We got to have a look at the though and take some photos.
It's such an amazing place with wildlife everywhere. I can imagine it would come alive even more in the busy season when it is full of people around camp fires, playing guitars and camping but we were loving that we had the place pretty much all to ourselves. They have some great events through the year too which we will be coming back out to see at some point. Outback Rock n Blues and Opera in the Outback are the main two events we'd like to see.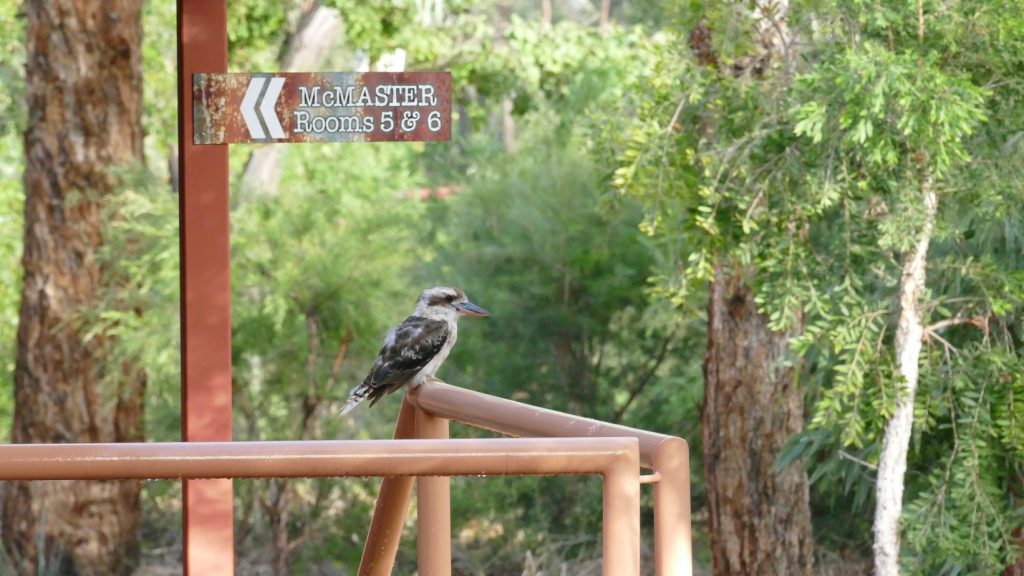 Our next adventure was the Archway Explorer Tour which would take us to the lava tubes. We were very excited and I haven't done it since I was a kid so couldn't wait to get under ground. The bus took us there and the trip there was so informative with Kane giving us the history of the property but also the tubes themselves.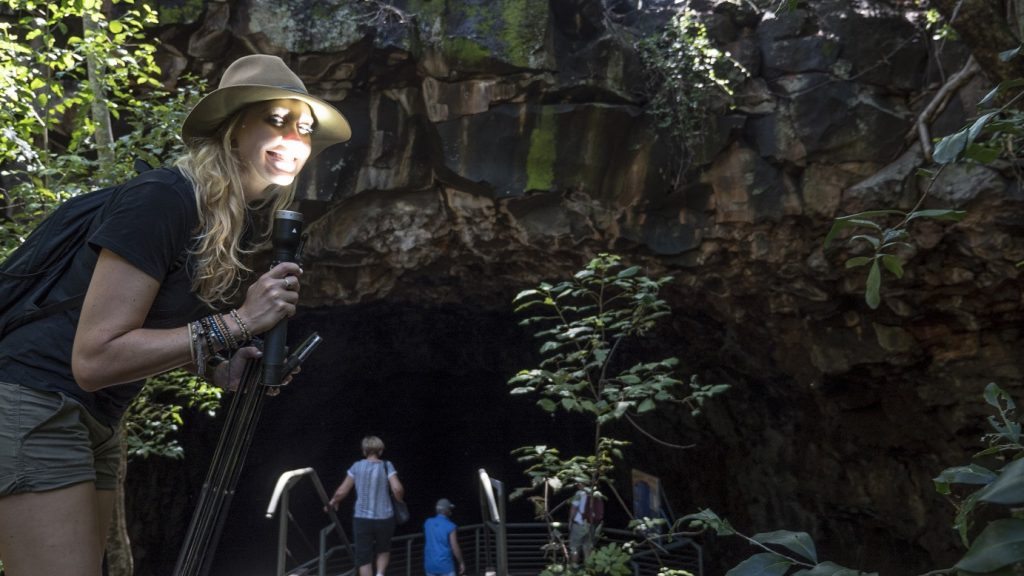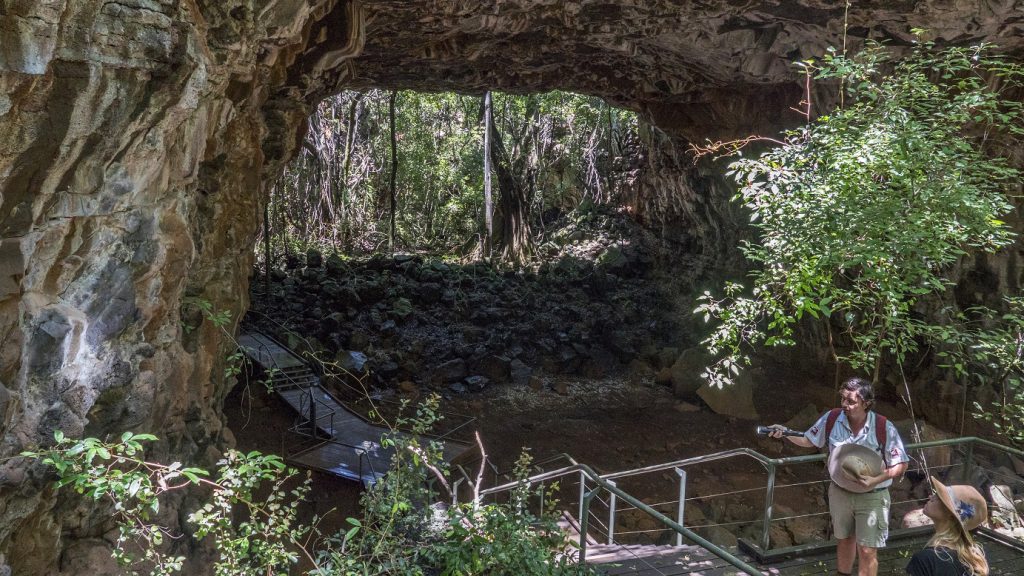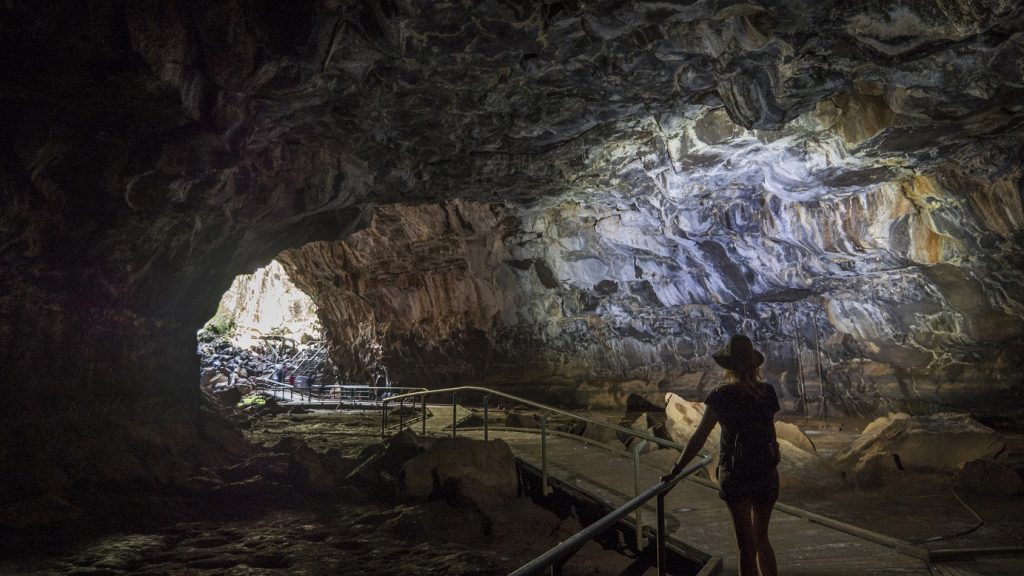 The tour went for 2 hours and was absolutely amazing. The lava tubes are mind blowing and as we walked down we were surrounded by butterflies. The experience as a whole is very well done. After we got back we had a few hours to kill before our sunset and wildlife tour so we decided to head out to Kalkani Crater which is about 9kms from Undara. I wanted to see the lava tubes from an elevated position since they go for 126 kms and you can see from the air where they have collapsed.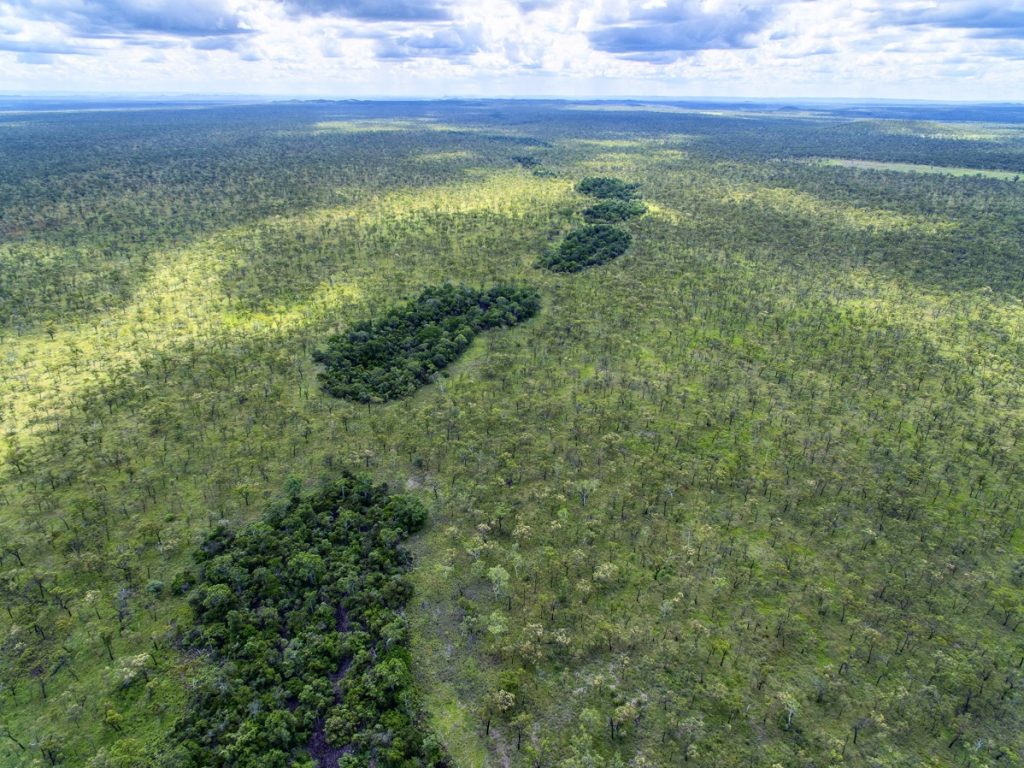 We made our way back to Undara and spotted some kangaroos, snakes, birds and of course cows. Just another opportunity to play 'hey cow'. We sat down for dinner before heading off on our wildlife at sunset tour. Little did I know at the time I was about to experience one of the best wildlife experiences ever!
Firstly Kane took us up to a special spot with beers and wine to watch the sunset. Now we didn't get a lot of sun but we actually saw what we wanted to see this time of year in the outback which was rain and storms on the horizon. I've seen a lot of sunsets but when it's raining in the outback it's something special.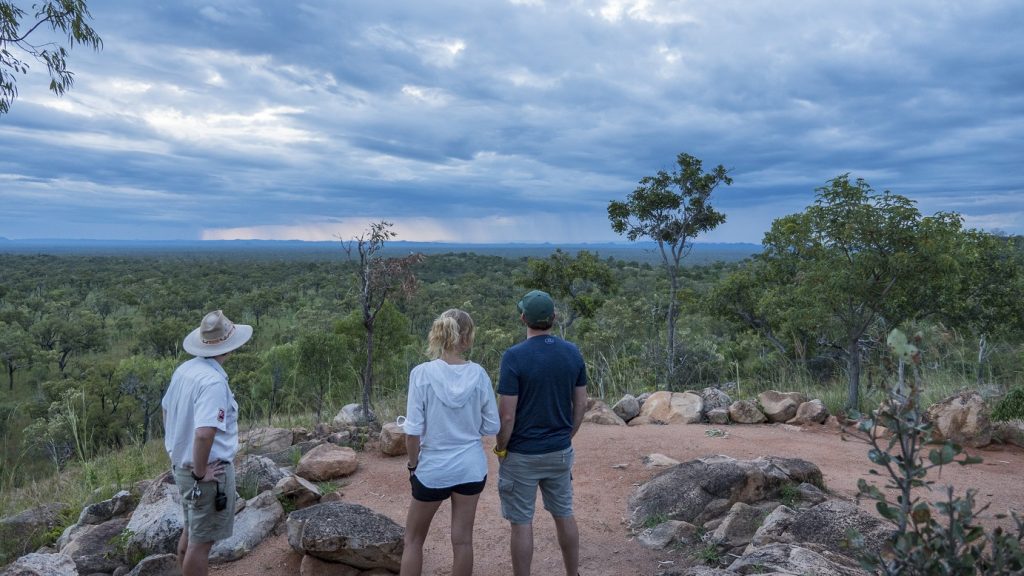 Now for the wildlife tour. We walked down to a lava tube and we were warned in advance that there would be snakes and bats everywhere but that we would be safe. What was to follow was one of the coolest things I've ever seen. Bats everywhere flying out of the lava tube and snakes hanging out of a tree catching them out of mid air. This is a must see. It only happens in summer though so you have to go in the green season to catch this. Alana gripped my arm very tightly as we watched in awe.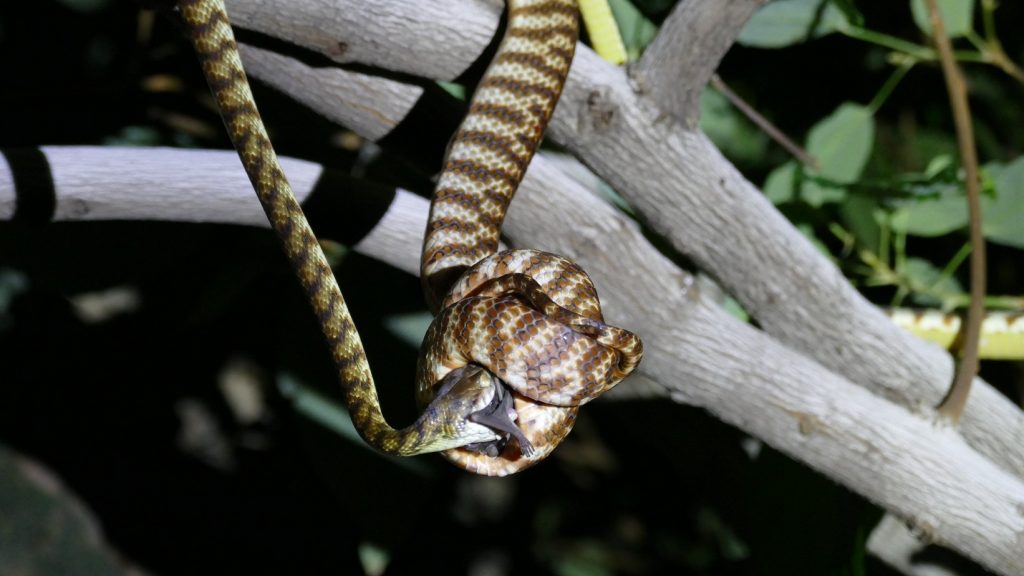 Our time at Undara was done but I know it won't be our last visit. It's such a special place and I would highly recommend for anyone to make the trip.
Day 4: Waterfalls then home
We got up early, filled the travel coffee cups and hit the road. We had a big mission ahead and wanted to make a few stops on the way. As we were driving we caught a stunning sunrise on the road which was the perfect way to start the day.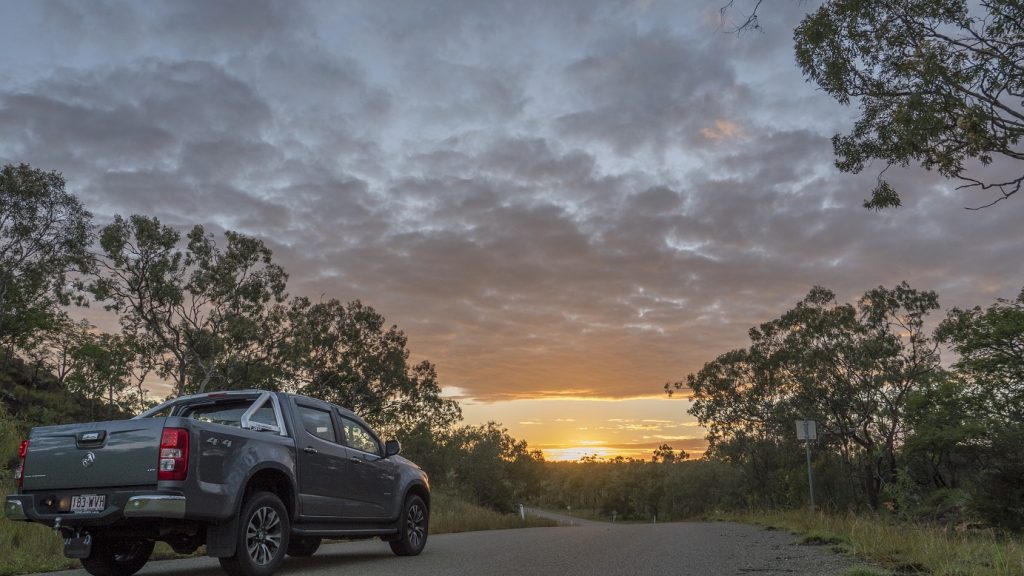 Most of the stops we had planned were waterfalls but there was a place we had heard about that we really wanted to see……..and feel!
Innot Hot Springs
It's well known in the tablelands and has a long history. It has been said to have healing powers and in the past the water had been shipped all around the world. I wish we had a shovel so we could have dug a hole and laid in the hot water but we will be more prepared next time. One piece of advice, be careful because in certain spots it is very hot! As far as I know they pump the water up to the caravan park too but it was a bit early and they weren't open so we didn't see that.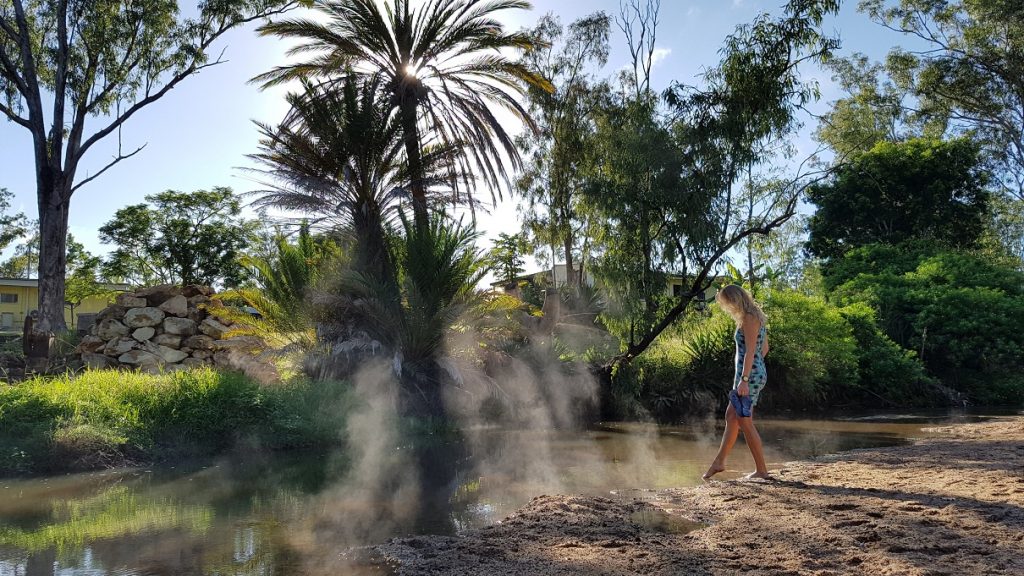 Our next stop was in Ravenshoe for breakfast and right next to Ravenshoe is Little Millstream Falls. Big Millstream Falls is a bit further up and is the widest single drop waterfall in Australia but we had already been there so we decided to pay Little Millstream a visit and it was stunning. I almost fell in the water with my cameras because I get a bit too excited when I see waterfalls and like rock hopping.
After that we took the Palmerston Highway back to Cairns and stopped in at Wallicher Falls and Tchupala Falls which are right next to each other.The walk in isn't long and you just park on the side of the ride but the rainforest was so green in there.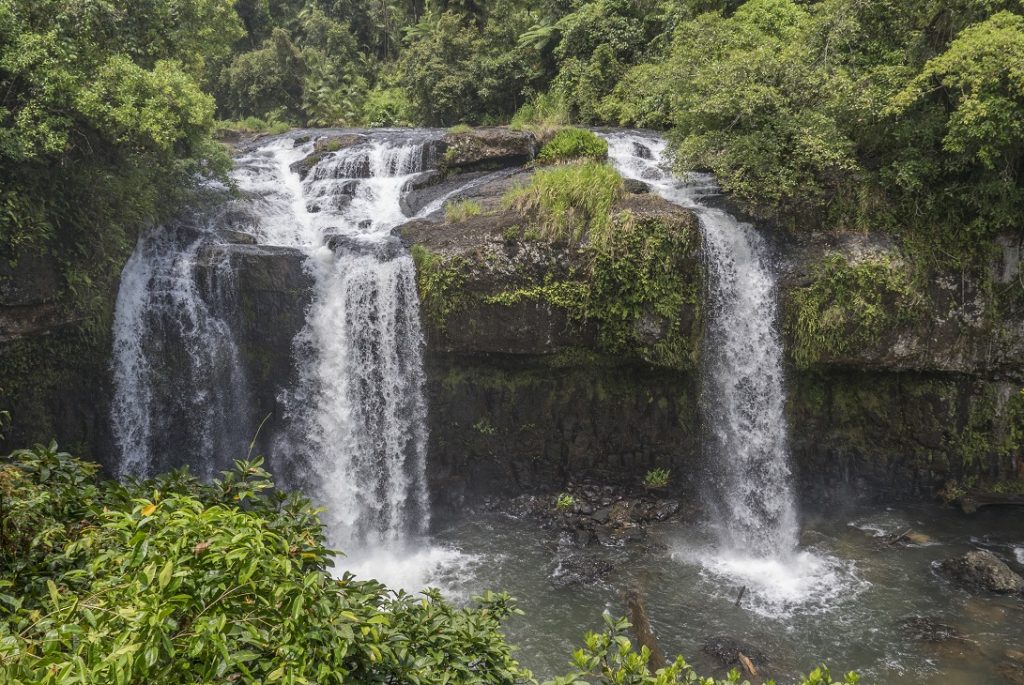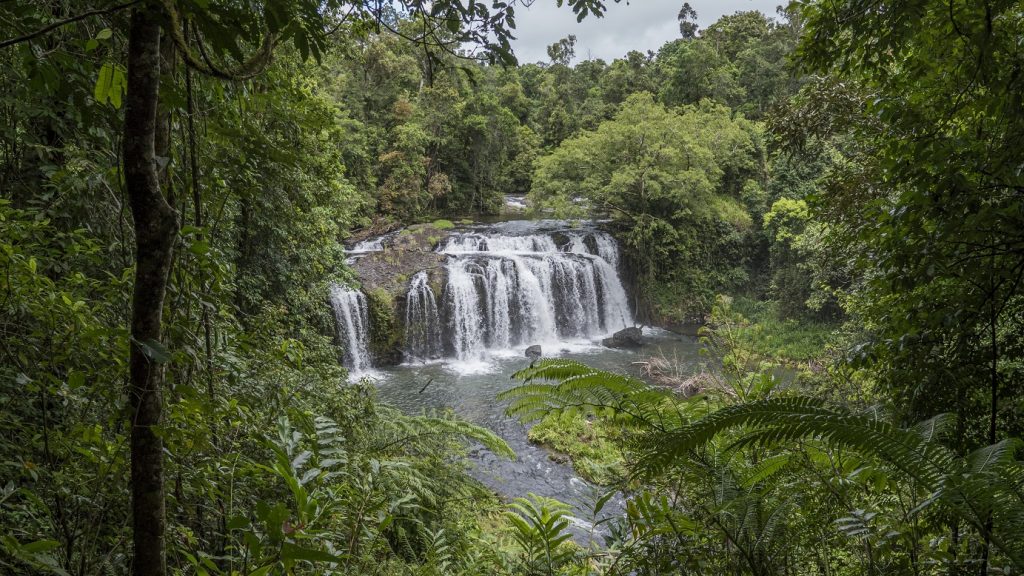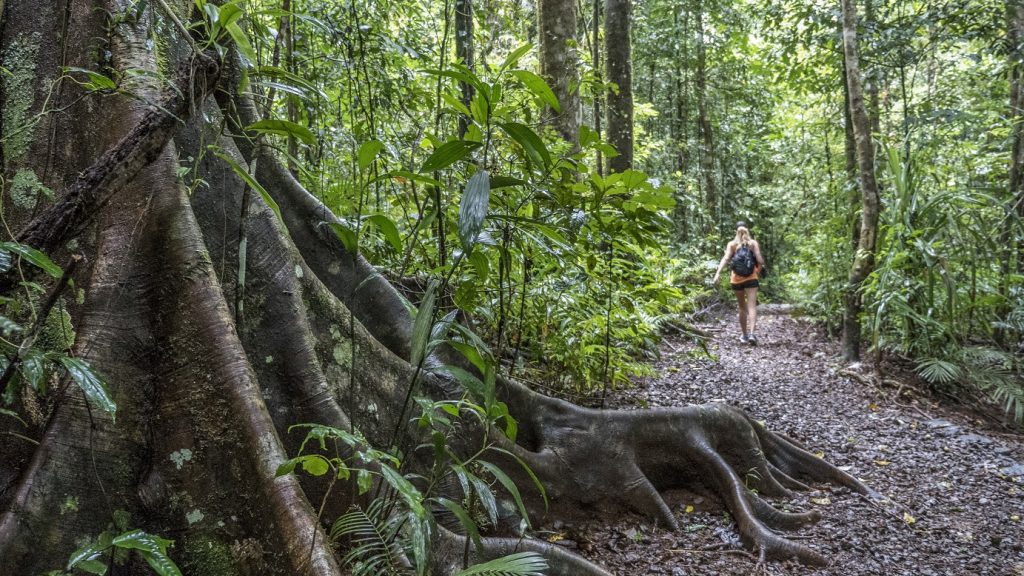 We made one final stop before heading back to Cairns and that was at Milla Milla lookout. It was raining a bit though, was late and the clouds had surrounded us so we couldn't see much but we could see the road home.
This trip has been on our radar for a while now and I'm so happy and grateful that we got to do it in a way that we could help show other people the beauty of the area and share some of our favorite spots. This is most certainly one of the most beautiful and diverse areas of the world and I would highly recommend to anyone to visit and go exploring here. There are so many hidden gems and things to see. We now know we have just scratched the surface so we need to keep exploring the area.
Thanks to Tourism and Events Queensland and Tropical North Queensland for making it happen and asking us to do the trip. Thanks to Kerry and Barb from Mt Quincan Retreat and Kane from Undara for taking such great care of us and sharing the passion for your products and the destination with us. You really are running exceptional tourism businesses and after being in the industry for many years I can certainly say that you are leaders and know how to do it right. Also thanks to Ireland's of Cairns for trusting us with a new Holden Colorado, such a great truck and after driving it I think I'll have to look at getting one.
If you have any comments or questions please feel free to add them below and follow us on our social channels and subscribe to the blog.
Until the next adventure have fun and happy travels!