In late 2015 when I heard a consumer 360 degree, virtual reality camera was going to be available, I had to have it. I bought the first model of the 360Fly pretty much as soon as it came out. As a videographer it was a great way to dip my toes in the 360 market. The promise of 360 video, a VR headset and no stitching of footage from multiple cameras and all for $650 was a chance I was keen to take. Especially given the pro setup was anywhere above $10,000 at the time (still is in most cases). The only little issue is that vertically it's only 270 degrees but it is 360 degrees horizontally and a single lens so that's still great. I have since moved to much more advanced systems but still use the 360Fly for some adventure and other fun projects.
Note: the videos may not display or play in this post on some devices and browsers but I have added links to the pages where you can watch them on Facebook or YouTube.  For the best viewing results click then use your finger or mouse to move around the video. On Facebook and YouTube you can move your phone around too and even put it in Google Cardboard or mobile VR viewing google if you have them (YouTube 360 videos only for now).
Flyboarding with the old 360Fly with Flyboard Cairns
(If you can't view this video on your device or browser try viewing it on Facebook at at https://www.facebook.com/PhlipVids/videos)
I figured there might be some small problems with the first model but some of them were mine and the others I could generally found a work around for. It wasn't compatible with my phone, the image quality was average the further away from the lens you got, file sizes were huge, desktop software had limited functionality (much more now) and sadly the first time I took it in the water it flooded even though I followed the instructions to the letter. I did however manage to get some cool footage before it flooded (see above and below) and to their (360Fly) credit the service was amazing and they replaced it straight away but sent the replacement from Melbourne. After this I was weary of taking it in the water again but I did and it stayed dry this time but I didn't take it in for long. The early model is good but I figured a new 360Fly model or upgrade wouldn't be too far away.
Then new 360Fly 4K arrived in May. I had seen media releases about the new model coming out and I kept a close eye on when it would be being released in Australia.
In June, 360Fly released the new 4K model of their camera onto shelves and I have to say that so far I've been quite impressed with it. I was on the phone to them a few days before the release date and in store as soon as it hit the shelves. Plus I got a Samsung Galaxy S7 to make sure my phone could handle it this time (see a full list of compatible devices here). I got the headset too and the first time I saw a shark coming at me in Virtual Reality I nearly fell off my chair!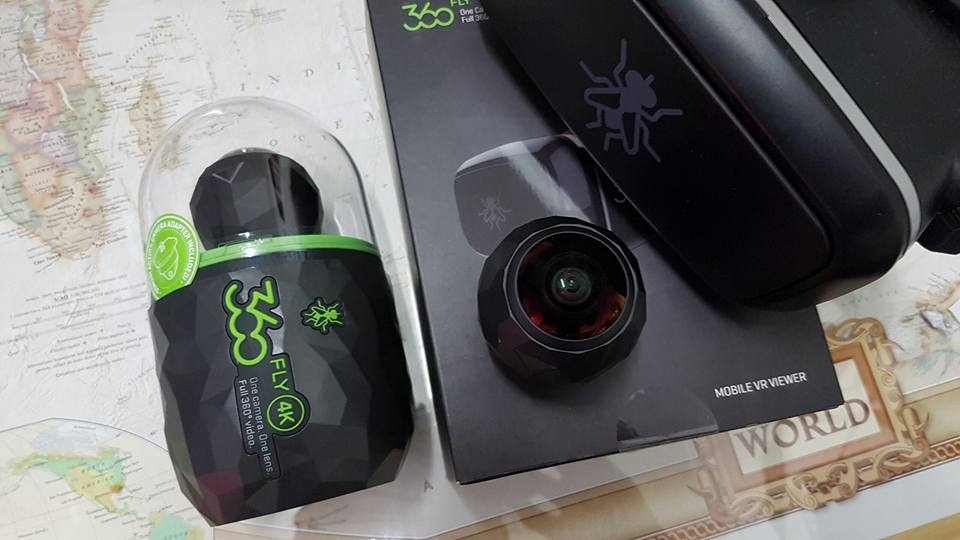 360 cameras in general still have their limitations but I don't think that will last long given the speed of technology these days and this camera works well. With the upgrades the new 360Fly 4K camera has:
Double the storage space
much higher resolution
So many more features in the app including taking 360 degree photos and a POV mode
Bluetooth and live streaming
Tripod screw mount
Better lighting and button management
and I hope better waterproofing (water test this weekend)
No need to stitch footage and no visible seam lines since it's a single lens!
Cons so far:
Big files sizes and managing them between devices can be tricky if your hardware can't manage it
Can't merge multiple clips on the app, only on the desktop
On the desktop you can't add music
mic doesn't seem as good as the last model but it's early days
All round so far for $849 it's a pretty good buy for a single lens, consumer 360 camera and I've had a good reaction to the footage and photos so far and it's been quite easy to use. It looks awesome with the VR headset too and everyone I've put it on has laughed like a little kid. A tip with the headset, do it in an office chair or stool that spins so they can easily look around. One thing I really don't like about it and haven't from the start is the 90 degree black spot at the base of the camera in the footage but I can look past it for now since it's early days and the camera is pretty good in other ways AND I can put a logo in there anyway. You can see the footage from it below and compare with the videos above from the old camera. If you have a Virtual Reality headset for your phone or have a Google cardboard viewer watch it in there!
(If you can't view this video on your device or browser try viewing it on YouTube at at https://www.youtube.com/watch?v=2dw7IFCg5g8 )
This is the type of reaction I have got from everyone I have shown the footage to in the VR head set.
They say there will be a dive housing later in the year, interesting. Might need a red filter then too!
A few tips from using it so far would be keep it still, try to avoid too many turns and direction changes since that messes with the footage movement especially if your viewers want to look around the footage and especially if they are watching in a headset. Get a tripod or some GoPro mounts too.
Make sure your mobile devices or computer is compatible!
My final verdict is that it's fun to have if you have the time to spend on your phone and computer and they are certainly fun and interactive to use, it's not going to do much for you in terms of commercial work though. If you get one get a headset with it, worth it for the novelty and you should be able to use it with YouTube videos that support VR and other VR and 360 videos that can be viewed in a mobile viewer. There are other models on the market and more coming this year. Samsung has bought out the Gear360 which I will also do a review on soon and I hear Nikon will be releasing one too but they will have multiple lenses so I assume there will be some stitching involved.
Thanks for reading and if you are based in Cairns or around Australia and interested in virtual reality and 360 video for your business please feel free to contact me to discuss the options for bringing your business up to speed will fully interactive VR.